AMT @ Asheville, NC
Lexington Avenue Gateway Mural
Asheville, NC
Exit BR Parkway MilePost: 384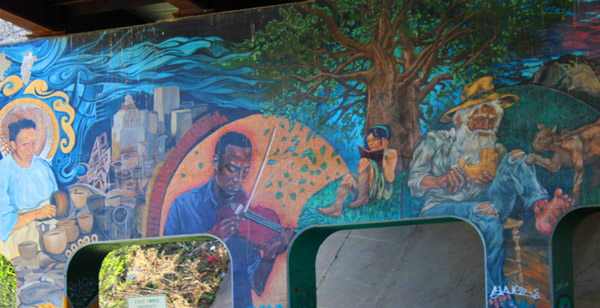 Lead Muralist: Molly Must
Trail Member/Sponsor:
Asheville Downtown Association
Construction Photos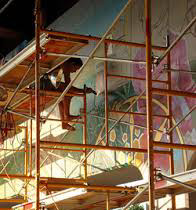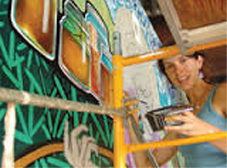 Mural Description
Lexington Avenue Gateway Mural completed in 2007-2008, 3,000 square feet, Acrylic paint on concrete. Painted by 6 different artists: Molly Must, Daniel Beck, Joshua Spiceland, Harper Leich, Kurt Theasler, and Steve Lister of Asheville. The collaborative design depicts a stylized timeline of Western North Carolina history. One set of concrete piers is painted with six characters personifying different eras of experience. The first three represent the past; a Cherokee mother and child, an matriarchal Appalachian pioneer, and a black laborer of the Industrial Revolution. The last three represent the present and future of asheville; an artist and urban planner, a cyclist, and a gardener. The second set of concrete piers is dedicated to artists and musicians in Asheville, and is comprised of six portraits of relevant personas.

Chess Players (extension of the Lexington Avenue Gateway Mural), 1500 square feet, 2011. Designed by Molly Must, painted by Molly Must and Ian Wilkinson. Based on photographs taken in 2009 of two men who played chess in Pritchard Park on a regular basis for many years. One of the players in the mural, Charles O'Kelley, could be found at the Haywood and Patton intersection "every day the sun shines," playing on a table he brought from home. Originally reigning from New York, Charles appears in the movie Searching for Bobby Fisher as an extra playing chess.
Artist Bio: Molly Must
Molly Must is an artist from Lobelia, West Virginia. Driven by a belief in the power of story-telling and cooperative creativity, she began making public murals and organizing community art projects in Asheville back in 2007. Between 2007 and 2015 Molly coordinated two major community murals in Asheville (the Lexington Avenue Gateway Mural and the Triangle Park Mural) in addition to five independent murals between NC and WV. In 2016 Molly decided to take a break from public art return to school to finish a long-abandoned bachelors degree at West Virginia University, and may continue to get an MFA. She is currently refining and growing her painting practice while also studying things she cares about, including precolonial and Native American history, neocolonialism, migration & human rights, solidarity economics, and collectivization. Molly is committed to participating in positive change in Appalachia.
Copyright &copy Catch the Spirit of Appalachia, Inc non-profit 2016-2099