AMT @ West Jefferson, NC
"New River Traditions" Featured Mural
West Jefferson, NC
"The Mural Town"
Exit BR Parkway MilePost: 261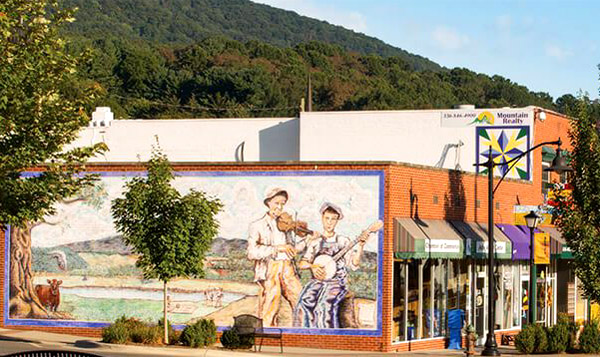 Muralist: Marianne DiNapoli-Mylet
Trail Member/Sponsor:
Ashe County Chamber of Commerce
Mural Descriptions
Featured Mural - New River Traditions features two musicians playing traditional instruments and other scenes from Ashe County, past and present, the Virginia Creeper train, a family enjoying a picnic along the New River and the natural beauty of our area. Created in October 1998.

Mural Mention#1 Unity in Diversity In the summer of 2006, another mural entitled Unity in Diversity was added to the downtown landscape. The bright and colorful mural has a home on the side of Boondocks Brew Haus. Winston Salem artist Marianne DiNapoli-Mylet worked with students at the Ashe Middle School to create a mural that reflects the landscape of Ashe County, the music and the people who live and work here. Unity, diversity, peace and tolerance in Spanish border the mural design. Along with volunteers from the Latino Center, students painted the mural on fabric panels that were adhered to the wall with a special adhesive followed by a protective coating. This mural project was part of an Arts in Education Residency Grant funded by the North Carolina Arts Council, a state agency, and the Ashe Middle School. Additional funding was provided by Handmade in America and the West Jefferson Community Partnership and the Ashe County Arts Council. - Location: 302 S Jefferson Ave
Lead Artist: Marianne DiNapoli-Mylet

Mural Mention#2 Spring Wildflowers on Mt.Jefferson depicts a close up of spring wildflowers, a view of the cliffs and foliage on top of the mountain and a distant view of Mt. Jefferson. Created in June 1998. - Location: 205 South Jefferson Ave
Lead Artist: Robert Johnson

Mural Mention#3 Cut at Devil Stairs was completed on the Dollar Tire Building. The mural is reminiscent of a time when the railroad was vital to the life of Ashe County. This mural was made possible by the collaborative effort and funding of the Ashe County Revitalization Committee, Handmade in America and the Ashe County Arts Council. - Location: 107 E 2nd St
Lead Artist: Stephen Shoemaker
Unity in Diversity Mural Mention #1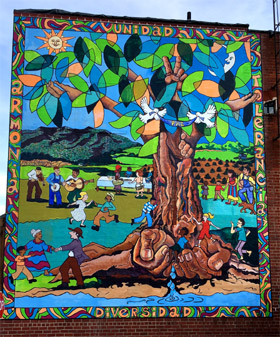 Spring Wildflowers on Mt.Jefferson Mural Mention #2
Cut at Devil Stairs Mural Mention #3
Artist Bio: Marianne DiNapoli-Mylet
Marianne has painted over 23 murals in a span of 5 years in and around North Carolina. Painting murals has been somewhat lucrative, allowing her to move into a studio in 1999) in the Downtown Arts District of Winston-Salem. She became an active member of DADA (The Downtown Art District Association) and for the past 3 summers and has led community murals in the arts district during the "Summer on Trade" concerts where all ages and experience levels were invited to participate.

Her studio work deals with musical genres, depicting a spontaneous moment in a performance. She has found that brush strokes have become much freer from painting on large walls. The inconsistencies in various wall surfaces and how paints layer over the rough areas fascinate her. She begun applying textural elements to her paintings (such as onion bags, paper towels and fabric) to achieve results similar to the murals. She also has been using spray paint for atmospheric effects and to create patterns of color from a one-directional spray. The complex motions and emotions of music and dance that help to define a sub culture has become her passion. She strives to convey the raw power of rhythm through my medium - brush, spray paint and crayon and by capturing musical spontaneity that she hopes to entice the viewer to feel the pulse of the music.
Copyright &copy Catch the Spirit of Appalachia, Inc non-profit 2016-2099