AMT @ St Paul, VA
Downtown St Paul has committed itself to a mural project with a goal to become the "Mural Town" of Southwestern Virginia. It also has the downtown Clinch River which is a great little river for kayaking and canoeing.
Featured: Cultural Mural Art
"Clinchfield RR 800"
St. Paul, VA
Exit BR Parkway MilePost: 294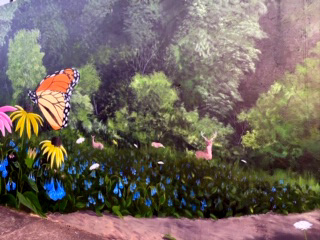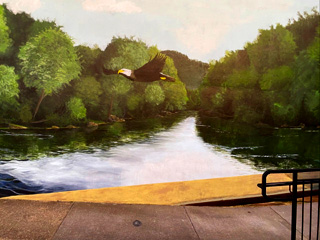 Mural Artist: Andrew Williams
Trail Member/Sponsor:
St. Paul Tomorrow, Inc.
Mural Description
Featured Mural - "Clinchfield RR 800" The mural is located on a retaining wall next to railroad trestle on Fourth Ave. Pictured is the Clinch River, surrounded by lush trees, native plants, and deer. An important part of the Clinch River is the biodiversity and mussels are pictured on rocks next to the river. A bald eagle is flying over (there is an actual nest close by). The Clinchfield RR 800 is pictured with a Christmas wreath on the front, representing the Santa Train, which has run through St. Paul for 76 years.
Mural Artist: Andrew Williams
Location: 4th Avenue and Railroad Tressel
Artist Bio
Andrew Williams
a talented artist based in the Southwest Virginia area who strives to provide beauty through art for all his patrons. He hopes to expand knowledge and creative expertise across all endeavors. He is committed to providing clients with the best possible experience through artistic expression. In his commitment to becoming a Muralist he has created many more jobs and opportunities for himself!

Williams is a self-taught artist, who created his first mural for the Draper Mercantile in Draper in 2016. Since then, he has been commissioned to paint additional murals in the surrounding area. Born in West Palm Beach, Florida, Williams is a graduate of Pulaski County High School, and now resides in Dublin. Williams became passionate about art and nature while living in Southwest Virginia and began to create watercolor paintings and landscapes.
Copyright &copy Catch the Spirit of Appalachia, Inc non-profit 2016-2099