AMT @ Martinsville, VA
Featured: Circus Parade Mural Art
Martinsville, VA
Exit BR Parkway MilePost: 177.7

Featured Artist: Jessie Ward
Trail Member/Sponsor: VisitMartinsville
Mural Descriptions
Featured Mural
- "Circus Parade Mural"
Remember those trips to the circus and waiting for the elephants to march center stage? Wait no longer. In Uptown Martinsville, elephants march permanently in a mural painted on the wall of New College Institute. The mural was commissioned and produced as part of Piedmont Arts' Public Art Exhibit. John Stiles, graphic designer and artist, used a contemporary style to design the mural based on a picture owned by Dr. Mervyn and Virginia King.
The mural shows a parade of elephants and other performers advertising the arrival of a circus in Martinsville around 1920. It shows elephants parading in front of the courthouse, with banners advertising the circus and First National Bank, as people watch. Before the days of television, the circus was a very big deal in Martinsville, small towns and throughout the country.
Location:
30 Franklin St
Mural Mention #1
"Old Glory"
Renowned artist Scott LoBaido, whose stunning depictions of the American flag can be seen all across America from a 150,000 sq. ft. flag on a roof in Texas to a 20' x 40' flag on a Boys and Girls Club building in California used his patriotic artistry to create, Old Glory, a stunning American flag mural on the outer wall of TheatreWorks in Uptown Martinsville.
LoBaido created this 38' x 18' mural in honor of Cpl. JB Kerns, a local veteran who lost three limbs in an IED explosion during his third tour of duty in Afghanistan.
Old Glory is on permanent display and is open to the public.
Location:
44 Franklin St
Mural Mention #2
"The Baldwin Block Canvases"
The Baldwin Block Canvases depict a streetscape view of buildings and places significant to the history of this location on Fayette Street and the culture, including the Baldwin Pharmacy, Jobbers Pants Co., and Saint Mary's Hospital among others. The three outdoor murals are on the Market Street side of the New College Institute building.
Artist Amanda Honore Donley and representatives of NCI consulted with staff and board members of the Fayette Area Historical Initiative (FAHI) who recalled the vibrant African American community that inhabited the Baldwin Block during the early 1900s. Their guidance provided inspiration for the project.
Location:
191 Fayette St
"Old Glory"
Mural Mention #1
Location: 44 Franklin St

CloseUp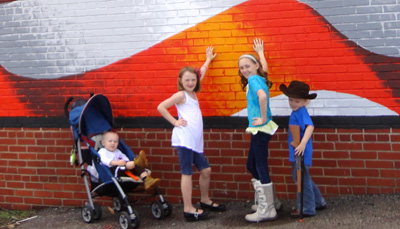 "The Baldwin Block Canvases"
Mural Mention #2
Location: 191 Fayette St
Featured Artist Bio
The artist who painted this unusual mural is just as unique as the mural; Jessie Ward. A third-generation farrier, Ward grew up wanting to follow her father and brother to the forge and become a blacksmith.

Ward now splits her time between shoeing horses and producing oil, acrylic and watercolor paintings. She also works with stained glass and has created exquisitely detailed etchings, batiks, printmaking, and free-standing and wall-hung sculptures. She just recently completed a 600 pound "Love" public art sculpture completely constructed with horse shoes for her town of Martinsville.
Copyright &copy Catch the Spirit of Appalachia, Inc non-profit 2016-2099