AMT @ Marion, NC
Cultural Murals Art Display
"Founders' Art Walk"
Marion, NC
Exit BR Parkway MilePost: 331


MURALIST: See Artists Bio below
Trail Member/Sponsor: McDowell County Tourism
Authority
Mural Descriptions
Featured Mural
- "Downtown Marion Mural"
Art Walk Mural #4 (Mural shown above)
The Downtown Marion Mural is located one block east of Main Street at 41 East Court Street. This iconic scene includes Mt. Ida, the inspiration for Marion's logo, Where Main Street Meets The Mountains. The Founders' Art Walk was inspired by McDowell County's 175th anniversary. The county's cultural heritage is shared through this collaborative, outdoor art display. Each vibrant canvas was created through partnerships, including the McDowell County Tourism Authority, the City of Marion, Historic Carson House, and with the help of talented local artists and high school students. As you follow this self-guided tour, explore and enjoy historic downtown Marion, North Carolina.
Location:
41 East Court St
Art Walk Mural #1
Lake James and Shortoff Mountain mural is installed at 31 West Court Street in downtown Marion, NC. The image was captured in a remote region of NC Highway 126 in Nebo, NC, just outside the town of Marion.
Art Walk Mural #2
Tom's Creek Falls is an area favorite. This mural is found at 84 South Main Street, Marion, NC. Tom's Creek Falls trail is an easy one mile hike, located north of downtown.
Art Walk Mural #3
This artwalk mural found at 169 South Main St. The Historic Carson House c. 1793, originally constructed as a log house, built by one of the county's founding family members, Colonel John Carson. The property, and family history, are integral parts of McDowell County's history. Today, it serves as a county museum and is open to the public.
Visit Historic Carson House at 1805 US Highway 70 in Marion, between April and November, Wednesday through Sunday.
Art Walk Mural #5
Historic Marion Depot mural is located at 81 South Main Street in downtown Marion, NC. Built in the late 19th century, today it serves as a public event venue. Stop by the actual depot located at 45 Depot Street.
Art Walk Mural #6
Lake Tahoma Casino mural is located at 160 South Main Street, Marion, NC. This iconic structure is part of a private subdivision, yet clearly visible from NC. Highway 80. It is the subject of many paintings and photographs taken since its construction in 1924.
Downtown Art Walk Map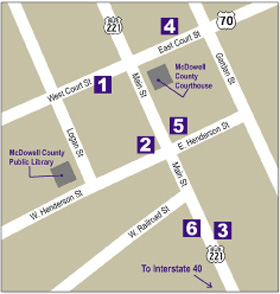 "Lake James/Shortoff Mountain"
Art Walk Mural #1
Location: 31 West Court St
"Tom's Creek Falls" Art Walk Mural #2
Location: 84 South Main St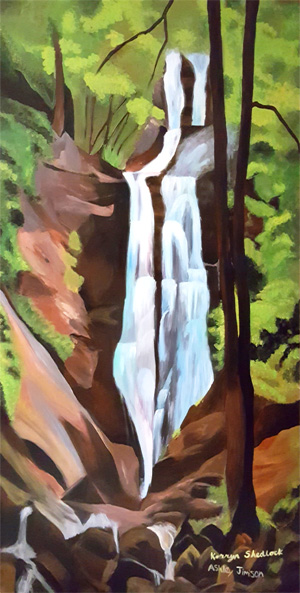 "Carson House" Art Walk Mural #3
Location: 169 South Main St
Click Here for Carson House Photo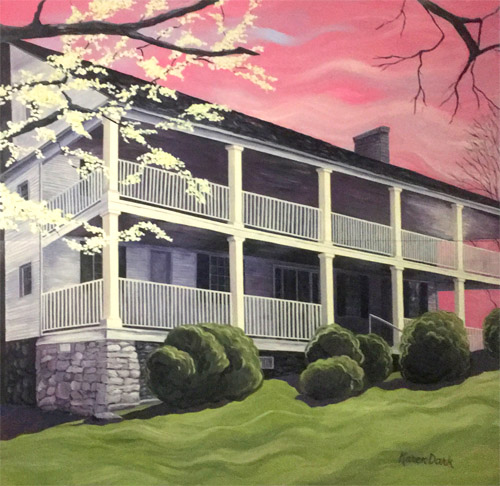 "Marion Train Depot" Art Walk Mural #5
Location: 81 South Main St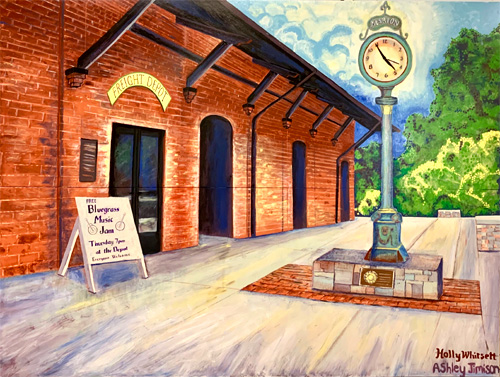 "Lake Tahoma Casino" Art Walk Mural #6
Location: 160 South Main St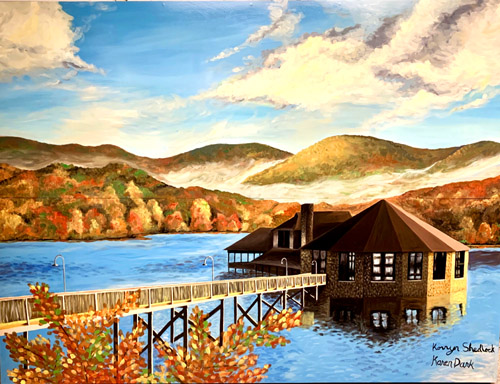 Artists Bios:
Karen Dark
is a retired art teacher and free-lance artist. She completed the Historic Carson House mural and contributed to the Downtown Marion, Lake Tahoma Casino, and Marion Depot murals. Marion Baker, another local artist, assisted Karen with the Downtown Marion mural.
Christi Shaw
is a county art teacher and educator. Cristi contributed to the Lake James/Short Off Mountain mural. She also worked to recruit the artists, coordinate schedules, assisted with painting materials and provided studio space.
Korryn Shedlock
is a senior at McDowell High School. Korryn's passion for the arts inspired her to assist in the drawing and painting of four of the six murals. She completed the Tom's Creek Falls mural and assisted with the Lake Tahoma Casino and Lake James/Short Off pieces.
Holly Whitsett
is a local Marion resident and artist. She is multi-talented and skilled in many art forms. She completed the Historic Marion Depot mural with the assistance of McDowell High School student, Ashley Jimison.
McDowell County resident Mike Lucas
, created the wooden structures serving as a canvas for these distinctive pieces of art. Mike and Jill Lucas created the McDowell County Quilt Trail, with over 200 outdoor installations
Copyright &copy Catch the Spirit of Appalachia, Inc non-profit 2016-2099