AMT @ Maggie Valley, NC
Community Mural Art
at Joey's Pancake House
"Maggie Valley Seasons of Time"
Maggie Valley, NC
Exit BR Parkway MilePost: 455.7



The Community Mural Unveiling at Joey's Pancake House on Oct. 15th 2018 was a success. It was received by a intimate group of close friends to the artist and the new owner Roy Milling. The finished mural covers the wall in the foyer, which is 25 feet long. This is where folks wait to have a seat to have breakfast in this world famous pancake house. The slider images below show the full length of the 25ft mural.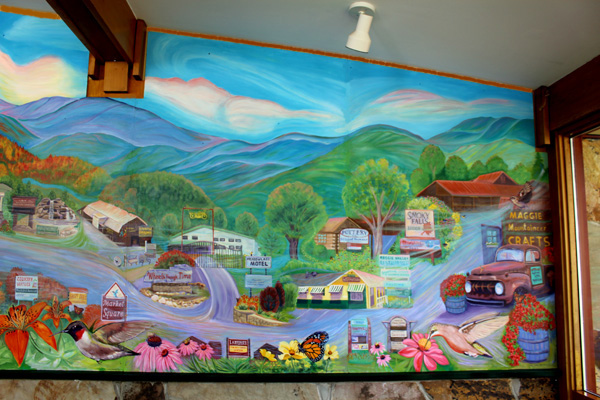 Mural Artist: Doreyl Ammons Cain
Trail Member/Sponsor:
Joey's Pancake House
Mural Description
Maggie Valley is a town that sparks your imagination with memorial images. The Ghost Town theme park, the Stomping Ground's mountain music, dinner theater, fine dining, shopping for crafts, ski slopes, connecting with the Blue Ridge Parkway, motorcycles, bear & elk and camping by Jonathan Creek are unforgettable. All of these images are a part of a new mural commissioned by Roy Milling, the new owner of Joey's Pancake House. The mural artist who has accepted the challenge is Doreyl Ammons Cain of the Appalachian Mural Trail. The mural covers the wall in the foyer, which is 25 feet long. This is where folks wait to have a seat to have breakfast in this world famous pancake house.

"The idea is for folks who are waiting to have a fun experience as they find all kinds of interesting images of Maggie Valley in the art mural!" says Roy Milling.

The glassed in foyer has spotlights on the mural so passing visitors can see the mural through the glass. The mural and it's dedication to the Appalachian Mural Trail is intended to draw more folks into Maggie Valley from the Blue Ridge Parkway.

"This is an exciting art project for me," says Doreyl Ammons Cain. "I have been to Ghost Town, danced at the Stomping Ground and tasted fudge at Maggie's Mountaineer Crafts, things I'll always remember. My best efforts have been put into this tribute to Maggie Valley!"
Mural Location: 4309 Soco Road
Artist Bio: Doreyl Ammons Cain
Born and raised in the Blue Ridge Mountains of Western North Carolina, Doreyl grew up drawing birds in the sand on the dirt roads around her home. She achieved a Masters of Art through California State University and has won numerous art awards including the Art in the Park Award. She has exhibited at the Smithsonian and created art for the film industry in California. Doreyl is now creating public art murals and art for book publication. She also has co-founded a non-profit organization called Catch the Spirit of Appalachia.
Doreyl's art is a celebration of life and her love of nature. Using vivid colors she explores shapes, design and expression. Coming from a career in biological art, she enjoys exploring the endless forms of natural life. Painting in pastels, acrylics and mixed media on various surfaces, she creates commissioned art for books, exhibits, collectors and hand signed and numbered fine art prints for festivals. Public Art is her greatest passion, for she believes that art should be shared in communities to uplift the spirit and raise awareness of life's beauty. Go to
www.doreylart.com
to see more works of fine art which illustrate the beauty of "little bits of Appalachia!"
Copyright &copy Catch the Spirit of Appalachia, Inc non-profit 2016-2099