AMT @ Lake Lure, NC
Flowering Bridge Living 3D Mural
Town of Lake Lure, NC
Exit BR Parkway MilePost: 384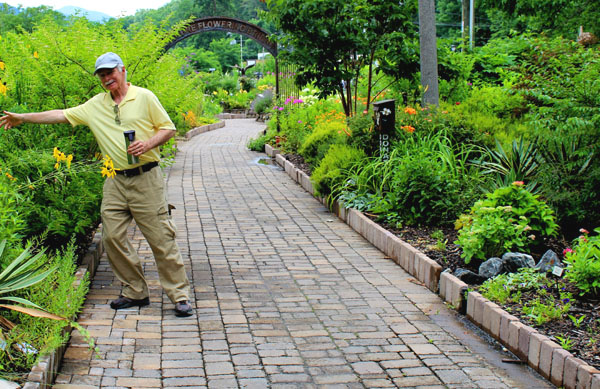 Lead Artists:
Veryle Lynn Cox and Amy Wald
Working Artists:
LL Artists Club and LLFB volunteers
Trail Member/Sponsor:
Rutherford County Tourism
Official Website:
Lake Lure Flowering Bridge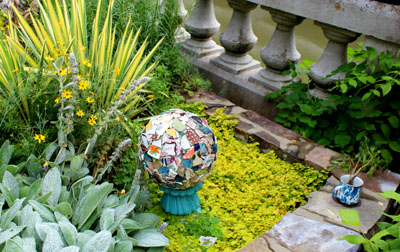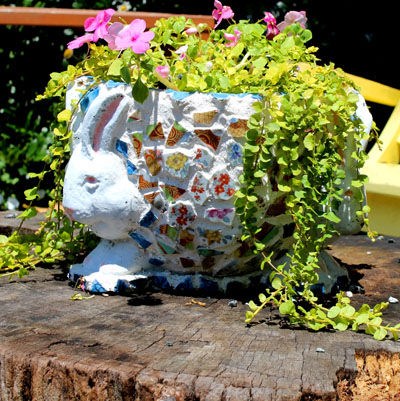 Mural Description
When the NC Department of Transportation completed a new bridge across the Rocky Broad River in Lake Lure, they took traffic off the bridge that was built in 1925. The historic bridge was turned over to the Town of Lake Lure and a community group came together to preserve, maintain and enhance the bridge and its surrounds. Since that time (late 2010), volunteers formed the non-profit Friends of the Lake Lure Flowering Bridge (LLFB), raised funds and, with initial help from a landscape architecture firm, designed and constructed the gardens. The LLFB is maintained entirely by volunteers.

The gardens extend along the Town of Lake Lure walkway for more than 350 feet, including the bridge itself. There are more than 700 species of plants. Tucked throughout the gardens are whimsical creations that add to the joy of an estimated 35,000 annual visitors, particularly photographers. Our visitor books include postings from all 50 states and many other countries. Dedicated in 2012, the gardens now offer a Sensory Trail for the visually impaired, including a mobile phone audio tour. As seasons change, there is always something new to enjoy. Because the plantings meet standards to attract birds and butterflies, the LLFB has been designated as both a National Wildlife Habitat and a Monarch Waystation.

The mural in the gardens dates to the spring of 2015 when volunteers were asked to help find used doors that could be repurposed. Then a small group stepped up to paint and seal the doors. Local artists Veryle Lynn Cox and Amy Wald graciously agreed to create a mural across 5 doors, sketching out a "paint-by-number" scene. Next a painting party was held in the Chimney Rock Fire Department building. Members of the Lake Lure Artists Club and LLFB volunteers came together to begin filling in the design. The piece was then installed in the Chimney Rock end of the LLFB.
Artist Bio
Veryle Lynn Cox has art experience which includes pottery, classical sculpture, figure drawing, oil and watercolor painting, and iconography. Highlights of her background include four years of life drawing and sculpture at the Royal Academy of Fine Arts in Brussels, Belgium; two years at the classical sculpture academy of Egyptian sculptor Mustafa Naguib in Chicago; writing icons in egg tempera at the Prosopon school of Vladislav Andrejev; and exploring additional art forms at the Penland School in five different sessions. These experiences add to her art studies underlying a BA in Art Education from Idaho State University.

Veryle was art department chair at a suburban Chicago high school, She coached students in creating murals for the school. At least five large ceramic murals were made by ceramic and sculpture classes, and many painted murals were installed as well.

With clay and painting art forms combined, her direction became more spiritual. Much of her work was prayerful and biblical. She created a texture device which had names of God showing as abstract designs in the clay. Veryle has created pottery pieces featuring icons with gold leaf, combining the simplicity of clay with the spiritual elegance of the icon.

Her pottery is represented at Seven Sisters Gallery in Black Mountain, in the Hickory Nut Gorge her work is shown at The Esmeralda Inn and Carolina Moon. Veryle has icons located in five churches and also displayed in private collections.
Copyright &copy Catch the Spirit of Appalachia, Inc non-profit 2016-2099