AMT @ Hickory, NC
Hickory's Historic Beginnings Mural
Hickory, NC
Exit BR Parkway MilePost: 294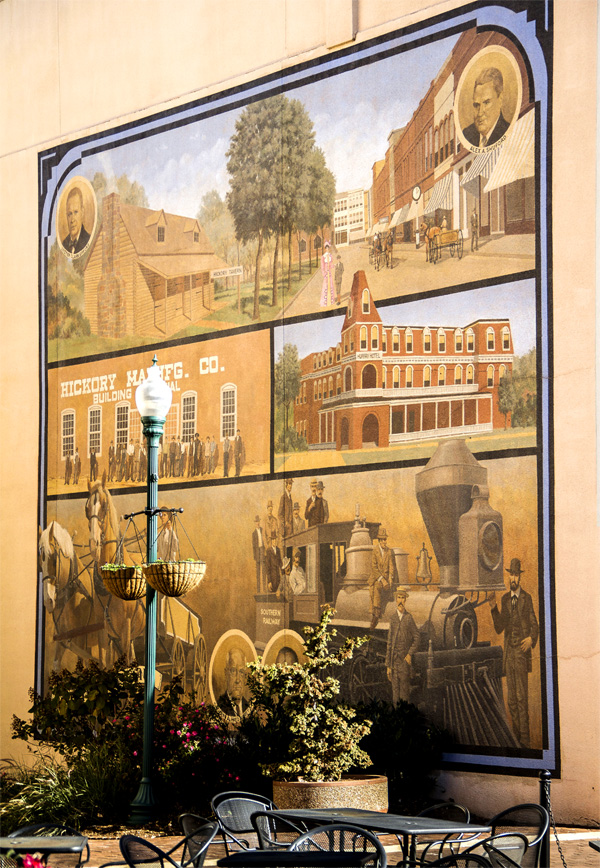 Muralist: Roger Cooke (1941-2012)
Trail Member/Sponsor:
City of Hickory
Public Art Commission
Mural Descriptions
Historic Beginnings The 35 by 25 foot mural depicts the City of Hickory's historic beginnings. Included on the mural is the Piedmont Wagon, the Southern Railroad, Hickory Tavern, the Huffry Hotel, 1918 Union Square, and Hickory Manufacturing Company.

In addition to historic scenes of early industries, four pioneers who helped build Hickory's strong economic and community spirited foundation are included. The faces on the mural are Alex A. Shuford, J. Alfred Moretz, Lester Clark Gifford, and Edmund Thomas Moore, Sr. The mural was a project of the City of Hickory's Public Art Commission.
Mural Location: 234 Union Square
Artist Bio: Roger Cooke
The mural painting was completed in September 2006 by Oregon artist Roger Cooke (1941-2012). During his lifetime, Cooke was sometimes called the "Johnny Appleseed of small town murals," having produced more than 60 historic murals across the country.
Copyright &copy Catch the Spirit of Appalachia, Inc non-profit 2016-2099