AMT @ Hendersonville, NC
Bee City USA - Hendersonville works to create a larger-than-life bee mural in the heart of downtown Hendersonville, while bringing beauty and character to the downtown area.
Bee Mural Art
Featured Mural: "The Good of the Hive"
Hendersonville, NC
Exit BR Parkway MilePost: 384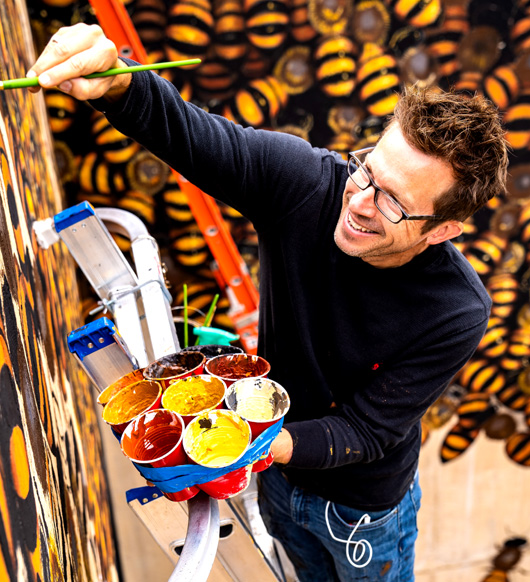 Matt Willey
Trail Member/Sponsor: Bee City USA - Hendersonville
Mural Photo by: Good of the Hive

Featured Mural Description
Featured Mural
- "The Good of the Hive"
(Mural shown above)
Matt Willey, artist and founder of The Good of the Hive, will be painting a bee mural on the exterior wall of the Hands On! Children's Museum in downtown Hendersonville, NC from October 26 through mid to late November, 2020. Learn more at https://handsonwnc.org/hive
Location:
318 N. Main St
Exterior walls of Hands On! Children s Museum Building, viewable from Azalea Public Parking Lot entrance on Third Ave., E., between N. Main Street and King Street.
Featured Artist Bio:
Matt Willey founded "The Good of the Hive" as an idea, a movement, an organization, and an adventure to personally hand-paint 50,000 honey bees the number necessary for a healthy, thriving hive in murals around the world. The mission: ignite radical curiosity for...
planetary health issues through art and storytelling. The bee and her hive are the artist's symbols, but at the essence it is about activating and celebrating the power in human connection. Honey bees within the hive think collectively. They are hard-wired to understand that their immune system is collective. Their health is based on the health of the hive, not the individual bee. After a personal experience with a honey bee in 2008, Matt realized that human health is the same way, although we rarely act like it. We are truly all connected more deeply than we realize. The global hive Matt is painting is a metaphor for the connectedness of all things. The bees are a symbol for humans, trees, animals, pollinators, water, soil and everything in between. During the past five years, Matt has created nearly 30 murals with over 5,400 hand-painted bees. He has reached hundreds of thousands of people and created large-scale works at the Smithsonian s National Zoo in Washington DC, Dag Hammarskjold Plaza in NYC, and Burt's Bees Global Headquarters. He has collaborated with the World Council of Peoples for the United Nations (WCPUN) and NYC Parks Art in the Parks Public Art Program. He has painted in a Tony-winning Broadway star s dressing room in NYC, at a fire station in the American south, at a farm in the Midwest United States, at schools across the US as well as a school in the UK. Matt has also shared the stories of The Good of the Hive through countless speaking engagements, publications, and other media channels. Learn more at www.thegoodofthehive.com.
Mural Mention #1
Location: 318 N. Main Street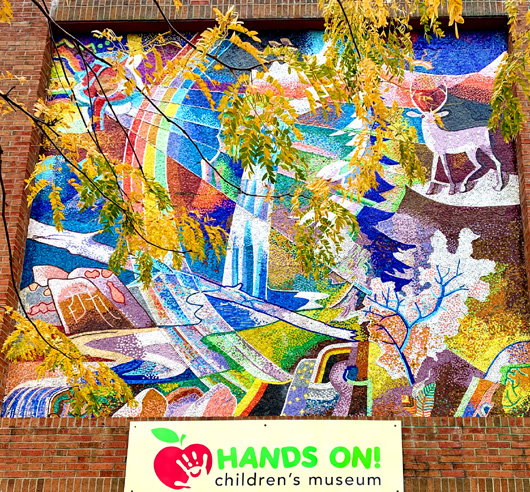 Photo by: Bee City USA(Hendersonville)

Description #1
- Nature in North Carolina Mosaic
Nature in North Carolina, an 18x18 mosaic created in 1993 by Ukrainian artist Vasily Polevoy, is made of 250,000 small glass tiles designed, created, and hand-placed on the building facade (a concrete block wall covered with a layer of mortar). The glass used is known as...
"smalti," a traditional mosaic material, and was ordered in 116 colors from a manufacturer in Monterrey, Mexico. This material is made of sintered glass, which is powdered glass that is partially melted under heat and pressure to produce tiles that are all glass but are opaque. The mosaic s glass tiles were mounted individually on a wet mortar base, a few square inches at a time. Polevoy s intricately designed and executed image was inspired by the mountains, rivers, flora, and fauna that the Polevoy family, then recent immigrants from the USSR, saw around them in their new home in Hendersonville. The work was commissioned by Don Gladieux during renovations to the building he had purchased (a former Belk's department store) at the time.
Location:
318 N. Main Street
Artist Bio:
Vasily (Basil) Polevoy, assisted by his sister Lyudmila
The large-scale decorative artwork by Vasily and his wife, Julia, was well known in the Soviet Union. However, the Polevoys were expelled from the USSR Artists Union on account of their Christian faith a decade before emigration to the USA. Vasily and Julia Polevoy came to...
America in 1990. A graduate of the Higher University of Art and Science in Leningrad, Vasily's work can be seen throughout the former USSR, and his underground paintings from the pre-glasnost era have been shown in art galleries in Italy, Czechoslovakia, France, Germany, Israel, and USA. A graduate of the Moscow Institute of Advanced Art, Julia s mastery in mosaics, murals and stained glass can be seen in airports, public buildings, schools, and restaurants across the USSR. Their work garnered recognition in artistic circles, but often sharp criticism from Communist Party officials for non-conformity with Party lines. In 1970 the Polevoys moved from Moscow to Vasily's homeland of Ukraine, believing that there they could practice their religion more freely. Many of the rich folk customs still survived there, along with many churches. Due to having evangelical thoughts , the Polevoys lost their membership in the Artists Union. They suffered great hardships afterward, financially and emotionally, and found they could show their art only in underground/unofficial exhibitions. Even so, they continued giving private art lessons and painted icons for Eastern Orthodox Churches in Greece and Romania. Mikhail Gorbachev s "perestrojka" began making inroads in the Soviet Union, however, it was infiltrating much too slowly in outlying areas, such as Ukraine, Polevoy said. Ironically, when the family finally decided to emigrate in 1989, Vasily's art regained official acknowledgement: 200 paintings were eagerly purchased by the Museum of Western Art in Cortilia, by the Ukrainian Museum of Art in L viv, and by other galleries. In addition, the Polevoys were invited to return, to the Artists Union of USSR. By that time, however it was too late. When they left Ukraine, the Polevoys were not allowed to bring any paintings with them. Vasily's sister, Lyudmila, immigrated to the USA in 1992 and joined the Polevoys and their daughter in Hendersonville. She assisted Vasily with the mosaic installation on Main Street.
Mural Mention #2
"We Honor Our Veterans"
Location: 135 Fourth Avenue E.

Mural Photo by: Hendersonville Visitor Center


Close-Up

Description #2
- "We Honor Our Veterans"
This 92x20 painting includes models who are local military heroes: U.S. Army soldier Terry Lee Varnadore, Jr., who died in Afghanistan in 2011; his young daughters, Ava and Leila, are shown on the mural receiving a folded American flag; Varnadore s wife, Casey, was pregnant with Leila when her husband was killed. Others depicted are East Henderson High graduate Jessie Cassada, a 19-year-old U.S. Marine killed in Afghanistan in 2009; Todd King, who survived...
a suicide bombing in Iraq s Green Zone; former Hendersonville resident Jessica Bayne of the U.S. Coast Guard; and Terry Koone, a U.S. Navy veteran who is now a teacher. The figures are standing in a local apple orchard, with a backdrop of a furled American flag. It took the artist a year to complete the scene. The mural was dedicated on September 11, 2016, the 15th anniversary of the 9/11 attacks on the World Trade Center in New York City. That same year the mural received a national award for Most Striking Public Wall Mural by America in Bloom.
Location:
135 Fourth Avenue E.
Artist Bio:
Andrea Martin
For over 30 years a Welcome to Hendersonville mural had graced the wall on the building at the corner of Fourth Avenue West and King Street. In 2016, artist Andrea Martin, a Hendersonville native, was given permission to replace the fading mural with her Honoring Our Veterans concept. The mural not only welcomes visitors to town, but...
pays tribute to veterans of Henderson County and WNC. She says that through acrylic paints and her art, small "thank yous" are given to the men and women who keep our land safe. She has a passion for honoring the military, inspired to a large extent by her grandfather, whom she adored. He was a career Army man, serving in the Korean War and World War II (Omaha Beach). He received a bronze star and purple heart for his heroic acts, among many other honors. A floor-plan designer by trade, Andrea had never painted until asked by a friend to paint his truck tailgate with a military theme. Coming from a family with military history, she now frequently uses her artistic's skills to honor those who serve.
Mural Mention #3
"Jump Off Rock"
Location: 142 3rd Ave West
Mural Photo by: Bee City USA

Description #3
"Jump Off Rock"
The date the original mural was painted on the historic Brooks Building (1925) is lost in the mist of time, estimated to be late 1950s. The mural was refreshed/repainted by muralist Knox Crowell in 2014. It advertises Jump Off Rock, which is located five miles west of Hendersonville in the Town of Laurel Park. Easily accessible by a pleasant drive west on Fifth Avenue, the natural attraction has drawn tourists and visitors for years, providing a panoramic view of rolling pastures, orchards, and the Blue Ridge and Pisgah mountain ranges.
Location: 142 3rd Ave West
Artist Bio: Originally painted by Unknown artist, refurbished in 2014 by Knox Crowell
Knox Crowell is a trained graphic artist and illustrator with an interest in local history. A former director of Henderson County Heritage Museum, he constructed and painted many of the museum's displays. His family has been in Henderson County for generations.
Mural Mention #4
"Coca-Cola Fountain Service"
Location: 303 N. Main Street(S. Wall)
Mural Photo by: Bee City USA

Description #4
"Coca-Cola Fountain Service"
One of three Coca-Cola murals on Main Street, this one was painted on the side of the Justus Pharmacy building in 1907 to advertise the soda fountain inside, which of course served Coca-Cola. The building was built in 1900 by Dr. William Hicks Justus to operate his business, Justus Pharmacy. This mural has been maintained since it was originally painted on the side of this building, making it the oldest...
Coke mural in town. Coca-Cola created over 16,000 advertising wall signs across the country, starting in the 1890s through the 1970s. This mural was refurbished by sign painter/artist Andy Thompson, who painted his first sign for Coca-Cola in 1958. The soda shop is still operating today and the current business Mike s on Main -- houses artifacts of Justus Pharmacy, such as the original cash register and glass apothecary jars.
Location:
303 N. Main Street(S. Wall)
Artist:
Original artist unknown. Refreshed by painter/artist Andy Thompson.
Mural Mention #5
"Coca-Cola Silhouette Girl"
Location: 620 N. Main Street(S. Wall)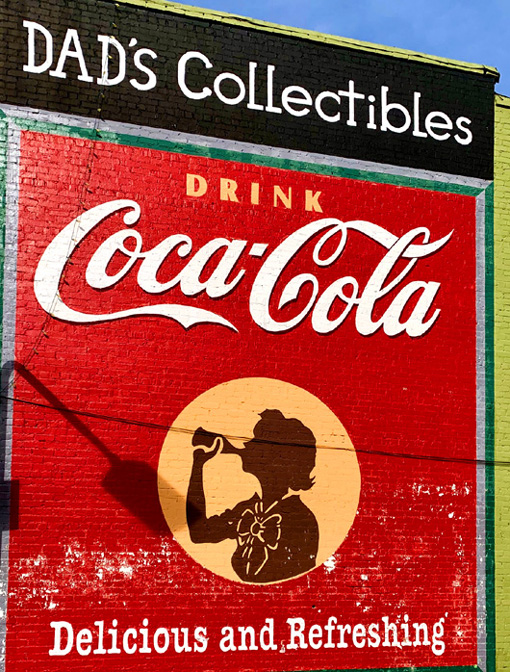 Mural Photo by: Bee City USA

Description #5
"Coca-Cola Silhouette Girl"
Two Coca-Cola Murals are on the building at 620 N. Main St. On the south wall is the 20x25 Coca-Cola Silhouette Girl mural; on the north wall is the 20x10 - Visit Downtown mural. Both were recreated in 2015 when Mark Ray, owner of Dad's Collectables, which at the time was doing...
business in the building, discovered old photos of the building showing murals intact. The old Coca-Cola advertisements were faded memories on the walls. Ray contacted Coca-Cola Consolidated, which commissions artists to recreate lost or faded Coca-Cola murals in small towns across the country. Artists were brought in to restore the old advertisements in the style of their original 1930s glory using the old photographs for reference. Hendersonville is the only town in the country with three historic Coca-Cola signs on the same street.
Location:
620 N. Main Street(S. Wall)
Artists Bio:
Original muralist unknown; Bill Johnson and Jack Fralin were commissioned to recreate the signs in 2015.
Bill Johnson grew up in Bedford, Virginia, where he began sign painting when he was either 12 or 13. His father, Murrill Johnson, was the person who...
taught him how to trace the design to scale, paint with care, and stay balanced when working at height. Regular painting trips with his dad turned into a lifelong occupation for Johnson, who has been painting signs since early 1980s. Jack Fralin, from Roanoke, Virginia, owns Best Bet Arts and often works with Coca-Cola to refurbish murals. He has been sign painting since his youth, specializing in restoration of faded or disappeared murals.
Copyright &copy Catch the Spirit of Appalachia, Inc non-profit 2016-2099