AMT @ Forest City, NC
"A Downtown View" - Featured Mural
Forest City, NC
Exit BR Parkway MilePost: 384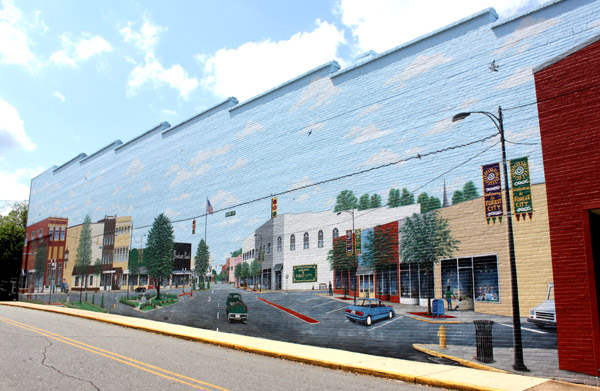 Muralist: Clive Haynes
Trail Member/Sponsor:
VisitNCSmallTowns.com
Close-Up #1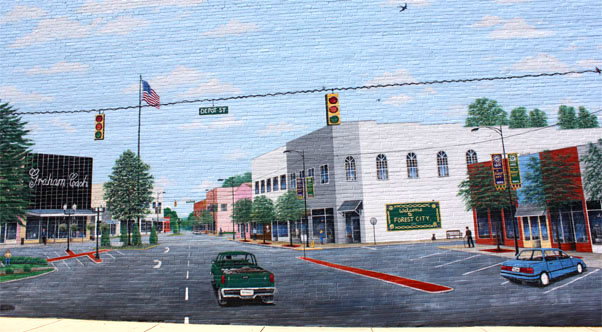 Close-Up #2
Mural Descriptions
Featured Mural - Downtown View This mural is located in downtown Forest City at 149 E Main St. The original mural was done in 2000 and was redone around 2011. Clive Hayes is the artist for this Mural. The town asked him to paint it as something to depict the town as a whole. Clive's idea for this mural was to give an illusion of the town. He hid alot of objects in the mural to make it more of a "find and seek" style. He enjoyed this piece because he got to make it up as he went still including a lot of history along the way.

Mural Mention - County Farm Museum Mural Don't let the name fool you... this museum does have a large collection of farm equipment, but there are many household items and many other artifacts displayed. Don't forget the beautiful detailed murals by Clive Haynes depicting a time gone by. These large murals are depicting the cycle of growing cotton and the early textle mills of the country and are outstanding features of the museum.

The County Farm Museum is located in Forest City at 240 Depot St. It is open wednesday through saturday from 10 to 4. Admission is $2 for adults and children get in Free.
Mural Mention #1
Rutherford County Farm Museum Mural
Close-Ups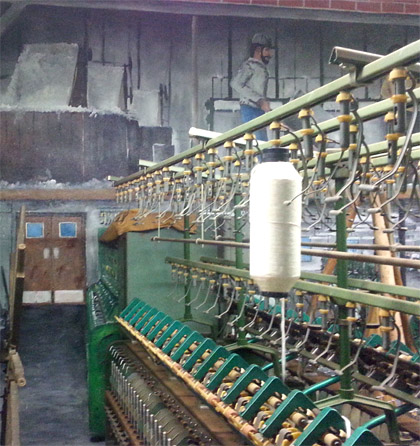 Artist Bio
Clive Haynes was born in Atlanta Georgia USA. Has lived in Florida, Japan, England and Italy. Clive has studied Art at Harrow Art Collage and Uxbridge Technical Collage. Received a diploma in Art and Display for Brtish Display Society.

Migrated to North Carolina USA 1986 and started painting murals in 1991, and writing children,s songs and books. Some are soon to be published.

He has painted Murals at, Hollwild Animal Park, Inman S.C., Town of Kings Mountain, Kings Mountain ,N,C., Town of Forest City, Rutherford County Farm Museum (History Of Cotton), Forest City N.C., Rutherford Hospital (Mural of its History) Chimney Rock Park (Nature Murals), Valdeze,N.C. (History of Valdeze), Waynesville Library Mural and Canton Library Mural.
Copyright &copy Catch the Spirit of Appalachia, Inc non-profit 2016-2099